Unlock the Full Power of HubSpot with DigiKat's CMS Solutions
From Seamless Migrations to Custom Builds, We Make HubSpot Work for You.
Explore our range of HubSpot CMS services designed to elevate your digital presence and simplify your content management.





What is HubSpot CMS?
HubSpot CMS is not just another content management system. It's a powerful platform that brings your marketing, sales, and service efforts together in a unified ecosystem. From easy content updates to personalized user experiences, HubSpot CMS empowers you to manage your website like a pro, without needing to be one.
Our HubSpot CMS Services
Tailored Solutions for Every Need
Whether you're looking to migrate your existing website or build one from scratch, DigiKat offers specialized services to suit your needs. Explore our offerings below.
Our Free HubSpot Themes
Jumpstart Your Project with Our Free Themes
Why start from scratch when you can kickstart your HubSpot experience with our free themes? DigiKat has over 10 themes available in the HubSpot Marketplace, each designed for ease of use and maximum impact.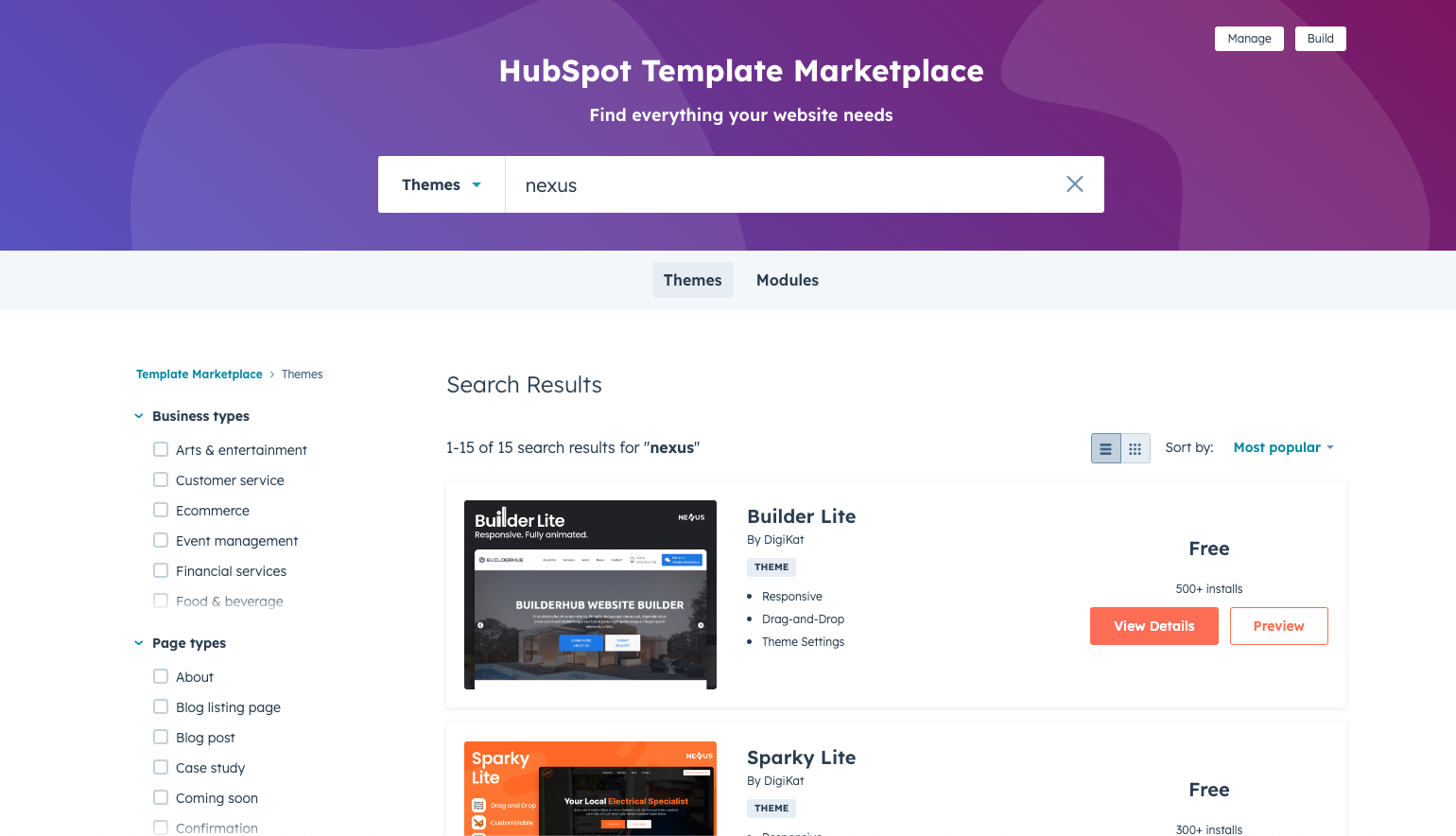 How to get started with DigiKat

Schedule a call
Your advisor will help you get clear on your goals and assess your current efforts, before crafting a one-of the-kind program that blends proven strategy with tactical instruction.

Onboard your team
We will work with your team to strategise and implement a custom plan to develop and marketing and sales engine that will build a steady stream of leads and sales.

Grow your revenue
Within just weeks, you'll be more confident in your sales and marketing, you'll become a trusted authority in your industry, helping you get more leads and a steady stream of sales.
Frequently asked questions
HubSpot CMS is a content management system designed to simplify the process of creating and maintaining websites. Its power lies in the seamless integration with HubSpot's CRM, providing a centralized platform for your sales, marketing, and service efforts. With its user-friendly interface and developer-friendly tools, it's a strong choice for businesses looking to grow and scale.

DigiKat provides a full suite of services tailored to your needs. This includes HubSpot CMS migration, custom theme development, SEO optimization, and ongoing training & support. Our aim is to make your transition to HubSpot as smooth as possible while maximizing the platform's potential for your business.

The duration of the migration process can vary based on several factors, including the size of your existing website and the complexity of its elements. On average, a basic migration can take between 2-4 weeks. For more complex projects, the timeline might extend further.

Absolutely! Our migration service is designed to recreate your existing website in HubSpot's platform, preserving your current design and branding.

One of our priorities during the migration process is to maintain your SEO standing. We implement automatic URL mappings and take various measures to ensure that there's minimum disruption to your search engine rankings.

Yes, we do! In fact, DigiKat has over 10 themes available in the HubSpot Marketplace. These themes are designed to be user-friendly, responsive, and optimized for conversions. You can either choose from our range of free themes to get started or consult with us for a custom theme tailored to your specific needs.

We believe in building long-term relationships with our clients. That's why we offer ongoing training and support post-migration to ensure you're getting the most out of your HubSpot CMS.

Ready to take the plunge? Simply hit the 'Schedule a Call' button on this page or drop us an email to schedule an initial consultation. We'll take it from there!
From the blog
Everything Business Growth & HubSpot

LAVO's experience working with Mick and his team from Digikat Marketing to date has been amazing. They're responsive, knowledgeable and will go out of their way to help ensure you get the best from HubSpot and how it can support your marketing strategy. We couldn't recommend Mick and his team more highly.