Is Your Website
Hitting the Mark?
Get a free and immediate evaluation of your website performance, SEO, mobile responsiveness, and security with actionable tips to improve your score!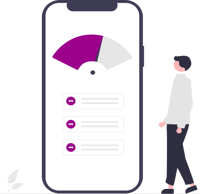 Your website is the heart of any digital marketing tactics or campaigns you use to promote your company online. This means that your content, SEO, and website infrastructure can play a significant role in how effectively you're finding and converting leads online.
What it all means.
We know how much an optimised website contributes to digital marketing success. So we've introduced a free Website Grader tool you can use to see how well your website is doing. The Website Grader looks at four different evaluations to determine how effectively your site is working for you:
Website Performance
Website performance includes components like how quickly pages load, whether styling or formatting errors cause your website to shift after loading, and how efficiently your code is working to create your website.
SEO
Search engine optimization gets thrown around a lot in the digital marketing world, but do you know what it really means for how well your website is working for your company? SEO plays a crucial role in how well your website and content can be found by visitors using search engines.
Mobile Responsiveness
More people are using their phones to do online research and make purchasing decisions than ever before. Which means that if your website isn't responsive, your mobile visitors may have a rough time trying to find information on you site.
Security
Website security isn't just for banks, online retailers, and high-security companies anymore. Every professional website on the web should have an SSL certificate and be utilizing visitors information appropriately.